A BRIEF HISTORY OF STAN'S HARLEY-DAVIDSON
Back in 1958 the Harley-Davidson Motorcycle Company set Stanley Horzempa up with $1500 dollars worth of merchandise and dealership status, but it didn't all start there.
Stanley was born here in the United States, but shortly after his family relocated to Canada. During World War II he enlisted and served as a technician in the Canadian Armoured Corps, Ontario Regiment.  Having been told he needed to return to the USA or thus forfeit his American citizenship he opted to leave his hometown of Wawbewawa, Ontario and set out for Elba, NY where one of his uncles resided.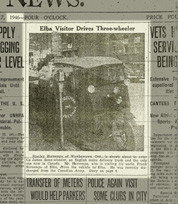 He showed up in Genesee county driving a peculiar three-wheeled car called a James Handyvan made in 1930 by the James company of England.  This strange vehicle landed him on the front page of the Batavia Daily news (picture to the left).  If you look closely at the photo, the car has a motorcycle girder front end.  Apparently, there were only two of these cars ever shipped to North America at the time and Stanley had one of them.
After working on the muck for a time, Stanley was hired on as a truck driver for Granger's & Co.  Shortly thereafter he met his wife, Thera Sanders. They were married in 1951 and in 1952 Thera gave birth to their daughter Debra. Three years later in 1955 Darryl was born. Having very little money, the Horzempa's were able to purchase a small plot of land on State St. Rd. in Batavia. They built a house there constructed from wood they scavenged from an old railroad house when the train system was re-routed outside of Batavia.
Stanley had a close friend named Don who operated a small motorcycle repair business. When Don wanted to venture into the used car business he handed the motorcycle end over to Stanley.  Stanley began using the shed behind his house as a repair shop.
In 1958 the Harley-Davidson Motor Company contacted Stanley about becoming a dealer. They set him up with $1500 in parts and he had himself a brand new Harley-Davidson dealership. Originally called "Stan's Cycle Shop," the business grew quickly enough that by 1959 Stan was able to build a bigger garage. Stanley operated the dealership part time while he maintained his fulltime job with Granger's. 
In 1966 Stanley was hired on as a deputy by the Genesee County Sheriff's office.
In 1970 the Horzempa's began building a new shop right next to their old one. This building would be the home of Stan's Cycle Shop / Harley-Davidson for the next 30 years.
In 1983 Stanley's body yielded to the effects of cancer at the age of 56.  Darryl had been working as a tool and die maker with a local Batavia company at the time and Debbie was employed at St. Jerome's Hospital.  Up Until Stanley's death Thera and Stan's kids had been helping Stanley out part time at the dealership.  Following Stanley's passing, they all did what they could to maintain the business.  The phone at Stan's continued to ring. People still needed someone to service and repair their motorcycles.  In 1984 Darryl left his full-time job and made it a go keeping the cycle shop open full-time.  Debbie continued to help out with the book keeping.  When the dealership began to grow Debbie was able to leave her "regular" job to manage the retail end of the business.
Our showroom has undergone many transformations over the years as well as our repair shop.  Yes, there was a time when we did most motorcycle service off the floor.  Our technicians are very thankful for the advent of the motorcycle lift.  In those days space was very tight, so they also appreciate no longer having to push all the bikes waiting for service outside at the beginning of the day and inside at the day's end.
In 1991 under the sponsorship of Stan's the Genesee County H.O.G.® Chapter was formed.  Through the years our H.O.G.® members have been some of our most loyal customers.  They volunteer at just about every event we put on and have been a huge help to our business.  Some of them have even gone on to become full-time Stan's employees.  On September 13, 1992 the Harley Owners Group adopted a 3.4 mile stretch of route 98 that runs south of Elba into the town of Batavia as part of the New York State Adopt-A-Highway program.
Between 1999 and 2000 we broke ground and relocated to our present facility at 4425 West Saile Drive. This new building has brought more room, more bikes, more employees, and more customers. Despite difficult economic times, we were the only New York Dealership to receive a Gold Bar & Shield Award for the 2009 calendar year from the Harley-Davidson Motor Company. This is the highest award the Harley-Davidson Motor Company bestows on Dealerships in its dealer network.